Bengal Kittens
Available Kittens :
Updated June 3
Please note all available kittens posted belong to a good friend /fellow breeder. I'm happy to put you in touch with her , she lives just minutes from me .
The sire of this litter is the son of one of my now retired Quadruple Grand Champion boys.
Please contact me for her number if your interested in her AVAILABLE KITTENS posted below . She is welcoming visits and accepting deposits after screening by phone.
Her Bengals are TICA registered and she does adhere to the same screening placement policies,vet checks and health warranties as I do . You can check with her about her pricing.
There are two brown marble boys ~Mr Bandera shown above and Picaso shown below
SIlver Marble female Senorita Sassy below is also available .
They will be phenomenally patterned ,sleek, shiny marble Bengals at maturity .They are actually quite beautiful already even in their bengal kitten fuzzy phase.
Fancy marble patterned Bengals continue to open up and become quite intricate the as they mature . Both of these kittens will be "fancy" marble patterned.
The available Bengal kittens shown above in photos, as I said , belong to my friend , who lives just minutes from me .
Feel free to contact me I'll give her your number, we chat daily.
Mr .Mosaic the beautiful snow silver seal lynx marble Bengal shown below is the sire of this litter. The kittens will have a marble pattern very similar to his.
If her info is still posted she does still have kittens available.
Feel free to call and I will give her your phone number . If you get my machine leave your name and number and let me know you'd like your number given to the breeder that has kittens posted on my website and I will have her call you .
Below is one of my favorite photos from the past of my granddaughter helping with kitten socializing. ♡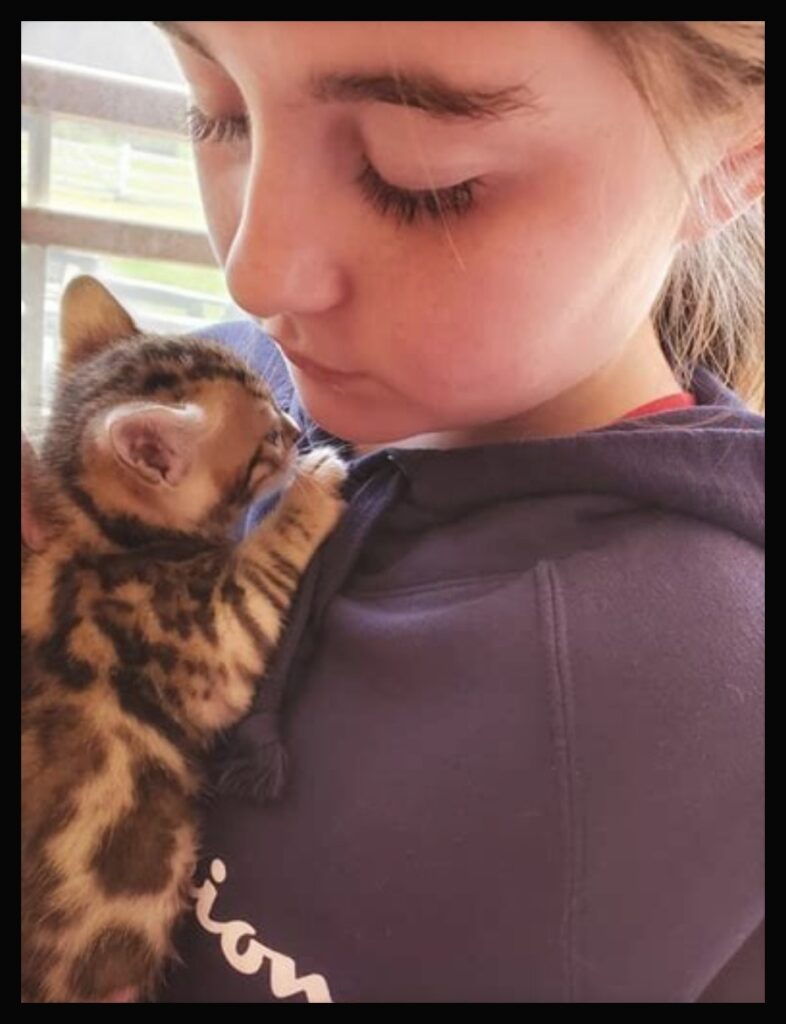 Our Bengal kittens will have received two sets of vaccines , health certificates from my vet and be spay/neutered before placement .They also come with a health warranty detailed in my contract with you.
If you are interested in a kitten (after reading and viewing all pages) please contact us to learn current info and receive photos.
We are always happy to provide more photos and information to serious inquiries .
Please read all pages as many questions will be answered there ,and of course we can go over any clarifications when we speak .
I am more than happy to help you select the purr~fect kitten for your family . Please don't hesitate to ask questions ! ☆
Before emailing please read PRICING/DEPOSIT page as there I will explain the pricing and the info I will request from you as an adopter. Many of your questions can be answered there before you email.
Please note: Emails without PHONE NUMBERS will not be considered seriously inquiries, please include your phone number in your inquiry.
No Custom Posts!